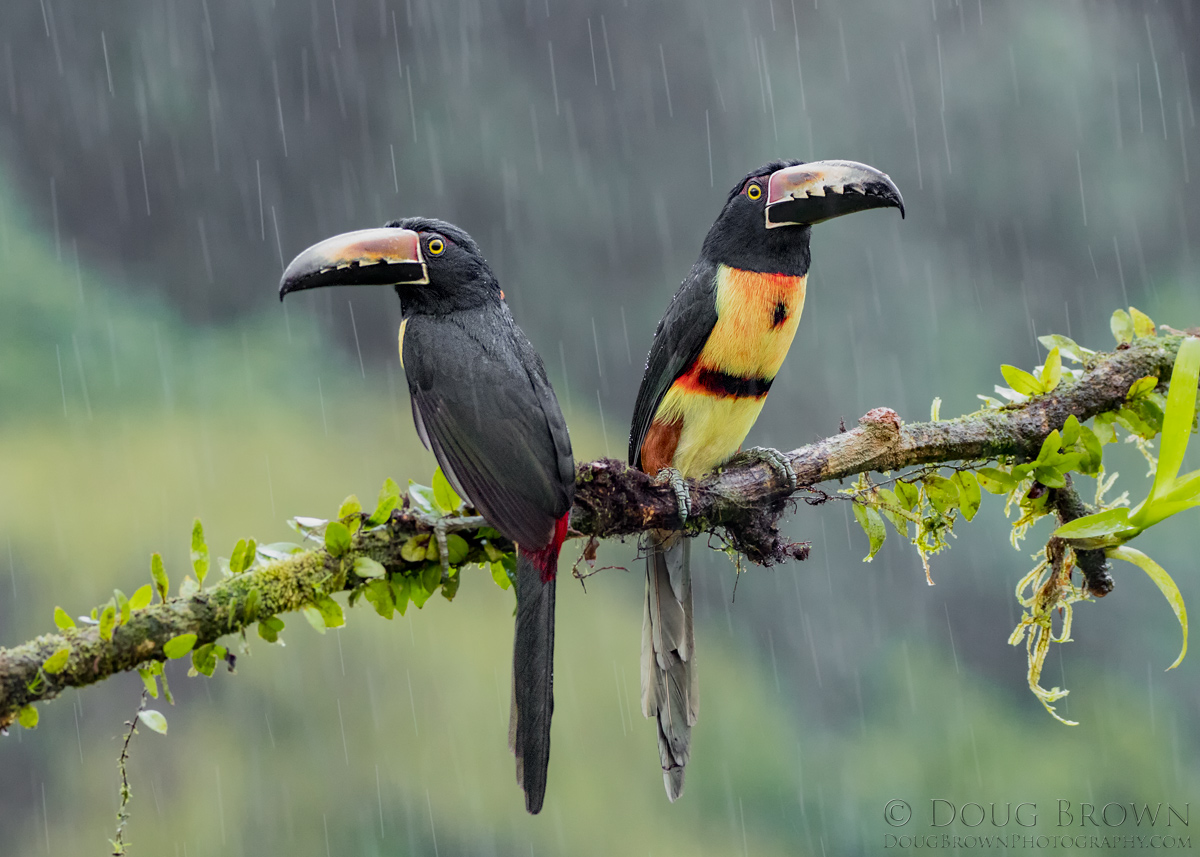 workshop description
Through a mix of presentations and hands-on instruction, award-winning photographers Doug and Greg will help you on a daily basis to learn techniques such as metering and exposing complex scenes, fill-flash in the field, multiple flash lighting for natural and creative looks, composition in-camera, and digital post-processing. Group size is limited to 8 participants so we will provide plenty of personalized instruction. We'll be photographing an amazing array of bird subjects -- all in the wild! And we've added extra days to this trip, making it a great value for a first-class workshop tour.
dates: feb 4 - feb 16, 2018
price: $5,895 (Sold Out)
locations: costa rica's best ecolodges (see details below)
testimonial
"My trip with Greg and Doug exceeded my expectations in every respect. The photography was simply superb. We were at the right places, at the right times, at every location. We were treated to first class accommodations with great food. The travel arrangements were all extremely organized and it showed...I came home with some great images, but more importantly with great memories and new friends. If I ever have the opportunity to go to Costa Rica again, I know exactly who I'll be going with as tour leaders."
— Keith Bauer, professional nature photographer, multiple NANPA showcase honoree, and instructor from the USA.
detailed itinerary
Day 1, Feb. 4 San José
Arrival to Costa Rica. Meet our representative at the Juan Santamaría International Airport and transfer to your hotel near the capital city of San José, where Doug Brown and Foto Verde Tours' Greg Basco will be awaiting your arrival. Those who arrive early can take the afternoon to photograph the beautiful orchids and other tropical flowers in the hotel's expansive gardens. The hotel has free wireless Internet throughout the grounds and in the rooms.
Overnight Hotel Bougainvillea, no meals included
Day 2, Feb. 5 Atlantic lowland rainforest
After an early breakfast, we check out and head to our first destination, a rainforest lodge where Greg has worked to set up a feeder that offers unparalleled opportunities to photograph Keel-billed Toucans, Chestnut-mandibled Toucans, and Brown-hooded Parrots among many other birds. We arrive at the lodge for lunch and set in immediately to photograph at the feeders! This evening, Greg and Doug will give a presentation on fill-flash for bird and wildlife photography.
Hotel Bougainvillea (B), Laguna Lagarto Lodge overnight (L, D)
Day 3, Feb. 6 Atlantic lowland rainforest
Today we divide our time at the lodge among photographing toucans, honeycreepers, and hummingbirds – tropical bird photography doesn't get any better! Today we will divide the group with half using the restaurant feeders for toucans, oropendolas, parrots, and aracari and the other half visiting the lodge manager's house where Greg has worked with the lodge manager to set up two blinds – one for honeycreepers (including the Green Honeycreeper, Red-legged Honeycreeper, Shining Honeycreeper, and Blue Dacnis) and one for a multiple-flash hummingbird setup where you will have the opportunity to photograph lowland hummingbird species including Crowned Woodnymph, White-necked Jacobin, Green-breasted Mango, Scaly-breasted Hummingbird, and Long-billed Hermit. This evening, Greg will give a presentation on the ingredients that go into making a successful and pleasing tropical bird photograph.
Laguna Lagarto Lodge overnight (B, L, D)
Day 4, Feb. 7 Atlantic lowland rainforest
And today we do it all again, rotating group members so that everyone gets great pictures of all of the birds around the lodge and at the manager's house.
Laguna Lagarto Lodge overnight (B, L, D)
Day 5, Feb. 8 Atlantic slope cloud forest
After breakfast, we have some time to shoot the toucans and parrots at our restaurant feeder before travel ing toward the higher cloud forests of the northern Central Volcanic Mountain Range. Our lodge is located in one of the most biodiverse areas of the country, nestled in a picturesque valley at approximately 4,500 feet above sea level. With its rushing mountain streams, cool air, and orchid and moss-festooned trees, the area is akin to a tropical Colorado. En route, we stop at a local farm where Greg laid the groundwork to set up photo opportunities of the wild, free-flying Great Green and Scarlet Macaws that inhabit the owner's large farm property. We arrive to our lodge in late afternoon, with time to settle in and enjoy a relaxing dinner after this busy day. This evening, Greg will do a presentation on the technical and artistic aspects of multiple-flash hummingbird photography.
Laguna Lagarto Lodge (B), Macaw Farm (L), Bosque de Paz overnight (D)
Day 6, Feb. 9 Atlantic slope cloud forest
After breakfast, we visit a nearby waterfall, which is 110 meters high and offers beautiful photographic opportunities of the waterfall itself and the surrounding cloud forest. There are some absolutely world-class landscape and lush tropical foliage images to be made here. In addition, we have permission to set up our multiple-flash here to take advantage of some very interesting small hummingbird species such as Black-bellied Hummingbird, Coppery-headed Emerald, and Green Thorntail and others such as the endemic White-bellied Mountain Gem and the perennial favorite, the Green Hermit. We'll shoot throughout the day, alternating our time between the setups, perched hummingbirds, and landscape photography.
Bosque de Paz overnight (B, D), Toro Waterfall (L)
Day 7, Feb. 10 Atlantic slope cloud forest
After breakfast today, we set in immediately to begin photographing hummingbirds at our multi-flash setups right on the lodge grounds. We will concentrate on the Violet Sabrewing (Costa Rica's largest species), Green hermit, Purple-throated Mountain Gem, and Green-crowned Brilliant. Greg and Doug will run the setups and provide attractive native flowers to ensure that you capture some fantastic hummingbird images. When not on the setups, you can relax and download images, shoot the Black Guan, Silver-throated Tanagers, Agouti, and Coatimundi that frequent the lodge grounds. And you can explore the cloud forest trails for macro and landscape photography. There are some great rushing cloud forest stream images to be made only minutes from the lodge restaurant.
Bosque de Paz overnight (B, L, D)
Day 8, Feb. 11 Pacific Coast rainforest
After breakfast, we depart and head toward the Pacific Coast lowlands, arriving at our hotel for lunch. After lunch, we'll take cover from the heat of the day and enjoy a post-processing session led by Doug. In the late afternoon we'll take a break from photography to do a little birding and photography to see some of the interestingspecies right on the lodge grounds.
Bosque de Paz (B), Villa Lapas overnight (L, D)
Day 9, Feb. 12 Pacific Coast rainforest
Today we head out on a private riverboat at sunrise. We'll be out on the Tarcoles River, where we'll have the chance for great shots of Tiger Herons, Magnificent Frigatebirds, Southern Lapwing, Turquoise-browed Motmot, Yellow-headed Caracara, American crocodiles, and a number of other great photo subjects. We return to our hotel for a late breakfast and then time to relax a bit. In the late afternoon, we'll head out again on our private boat to explore some different spots on the river and to look for different light angles on our subjects. We return to our hotel in the evening with time to relax after this busy day.
Villa Lapas overnight (B, L, D)
Day 10, Feb. 13 Pacific Coast cloud forest
After breakfast this morning, we head down the coast and then back up into the Talamanca Mountain Range en route to our last destination, the high cloud forests just on the Pacific side of the Continental Divide. On the way, we make a couple of stops. First, we stop for coffee and an early lunch at a small roadside restaurant with great home-cooked food and feeders that attract the speckled tanager and sometimes even the fiery-billed aracari. We continue and then spend the afternoon at a new highland feeder station run by a friend of Greg and Foto Verde Tours. Foto Verde Tours provided some initial consulting, and the owner has turned it into a wonderful place to shoot silver-throated tanagers, yellow-thighed finch, flame-colored tanagers, and acorn woodpeckers. We arrive to our family-run lodge for dinner and then a good night's rest after this busy day!
Villa Lapas (B), local restaurant (L), Paraiso del Quetzal overnight (D)
Day 11, Feb. 14 Pacific Coast cloud forest
Before breakfast, we head out with the lodge owner to look for the Resplendent Quetzal, the Holy Grail for neotropical bird photographers. The lodge owner and his family have started a project to work with local farmers in the area to monitor and protect the Quetzal, and this network exponentially raises our probability of getting a good photographic look at this beautiful species. The rest of the day will be spent on multi-flash hummingbird photography at a private photo deck built by Foto Verde Tours together with the lodge. We'll photograph the fiery-throated hummingbird, magnificent hummingbird, lesser violet-ear, and volcano hummingbird on our custom setups. When not on the multi-flash setups, we'll have set ups where you can photograph mountain robin, rufous-collared sparrow, and large-footed finch. And right on the grounds of the lodge, we have a good chance to photography black and yellow silky flycatcher, long-tailed silky flycatcher, and golden-browed chlorophonia on native fruit trees.
Paraiso del Quetzal overnight (B, L, D)
Day 12, Feb. 15 Back to San José
This morning we hunt for the quetzal again. After breakfast back at the lodge, we check out and head back toward San Jose but not without one more surprise – lunch at a local lodge that offers good looks at the beautiful magenta-throated woodstar hummingbird. We arrive to our capital city late afternoon. You'll have some time to get started on packing before we enjoy a farewell dinner in the hotel restaurant.
Paraiso del Quetzal (B), Toucanet Lodge (L) Hotel Bougainvillea overnight (D)
Day 13, Feb. 16 Airport
Private transfer to the airport for your flight home.
Hotel Bougainvillea (B)
the itinerary above includes:
Full-time photo instruction and setups by Doug and Greg
Lodging as specified
Meals as specified
Private transfers to and from hotels on first and last days
Professional driver/photo/nature guide and private transportation in spacious tour bus
Multiple-flash hummingbird photography setup equipment
Entrance fees for all described activities
Taxes on all services listed above
the itinerary above does not include:
Airfare
Airport departure tax (should be included in airline ticket- $29)
Alcoholic drinks (except at our fourth hotel)
Gratuities
Dinner the first night
Non-mealtime snacks
Non-mealtime soft drinks and bottled water
Single room supplement $410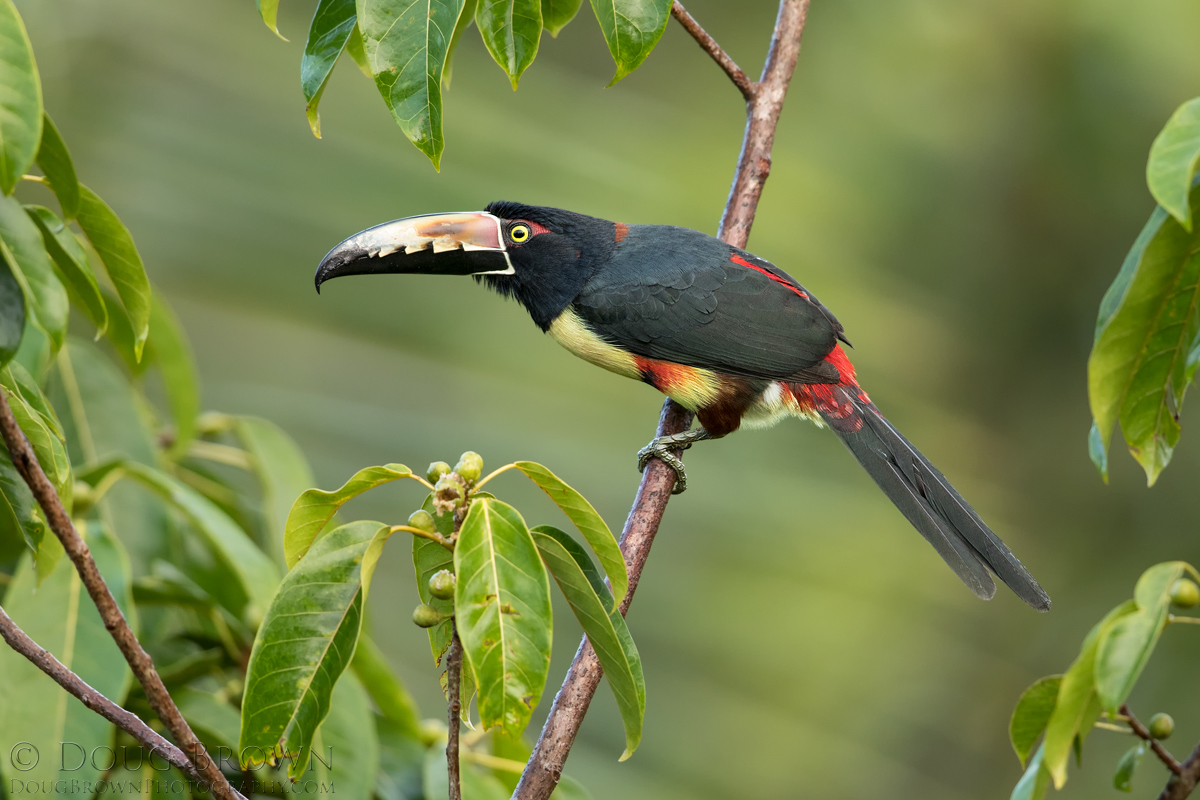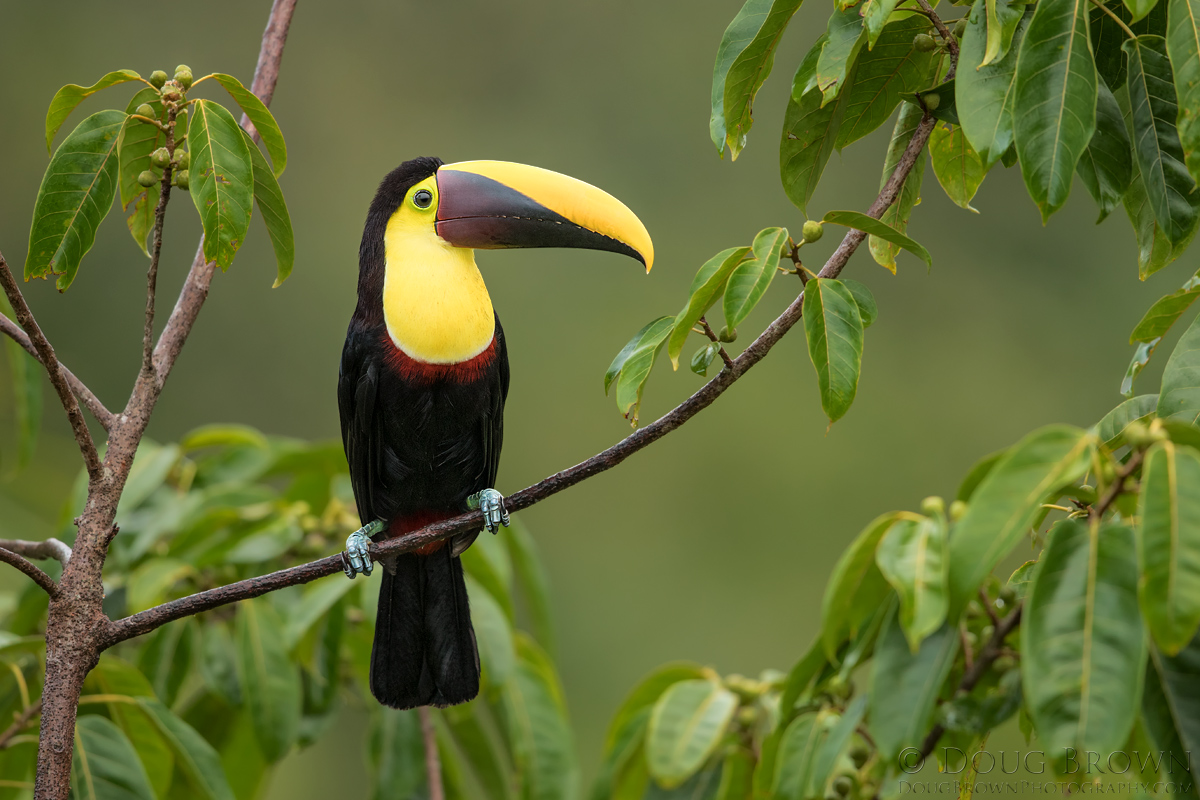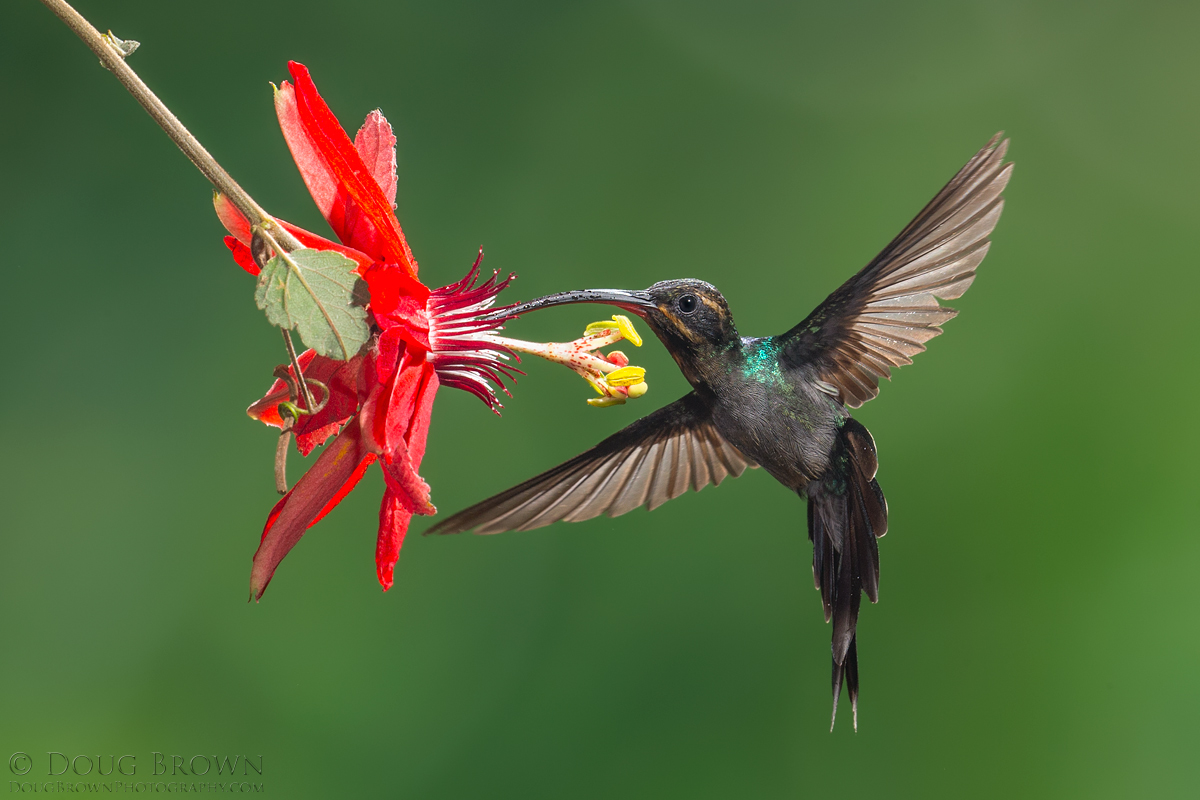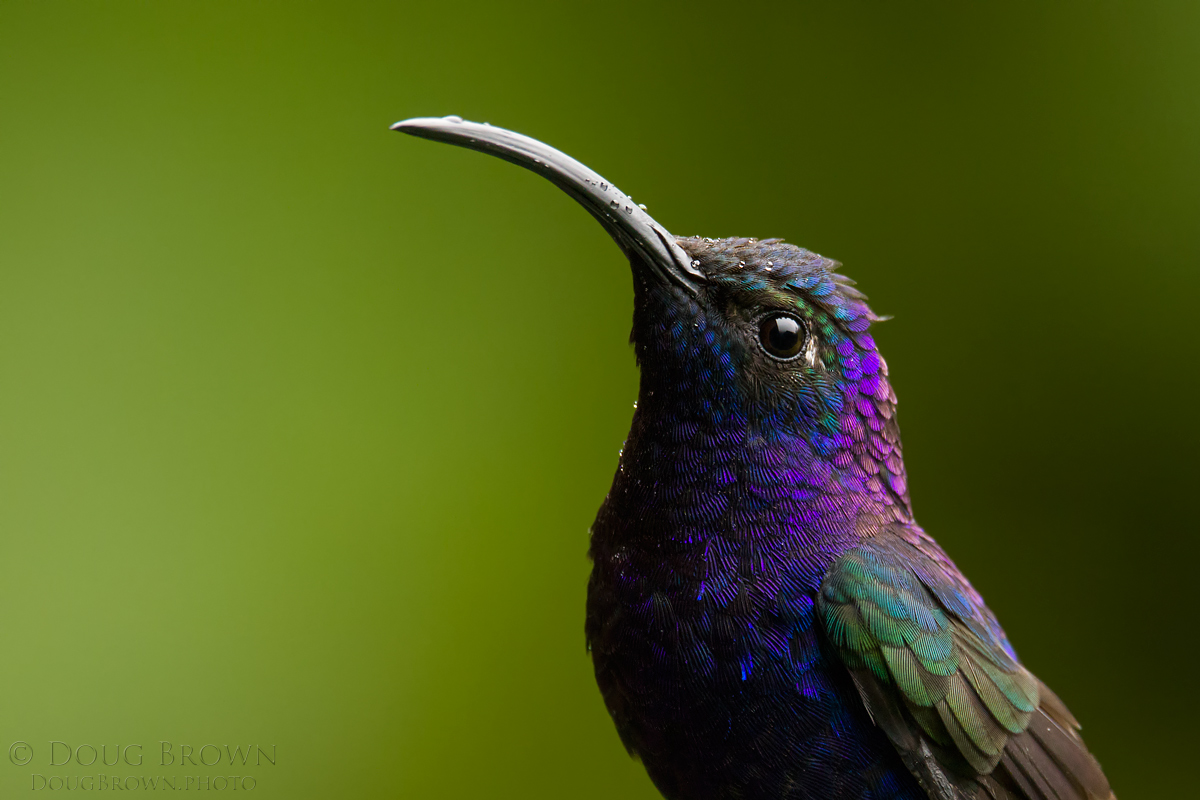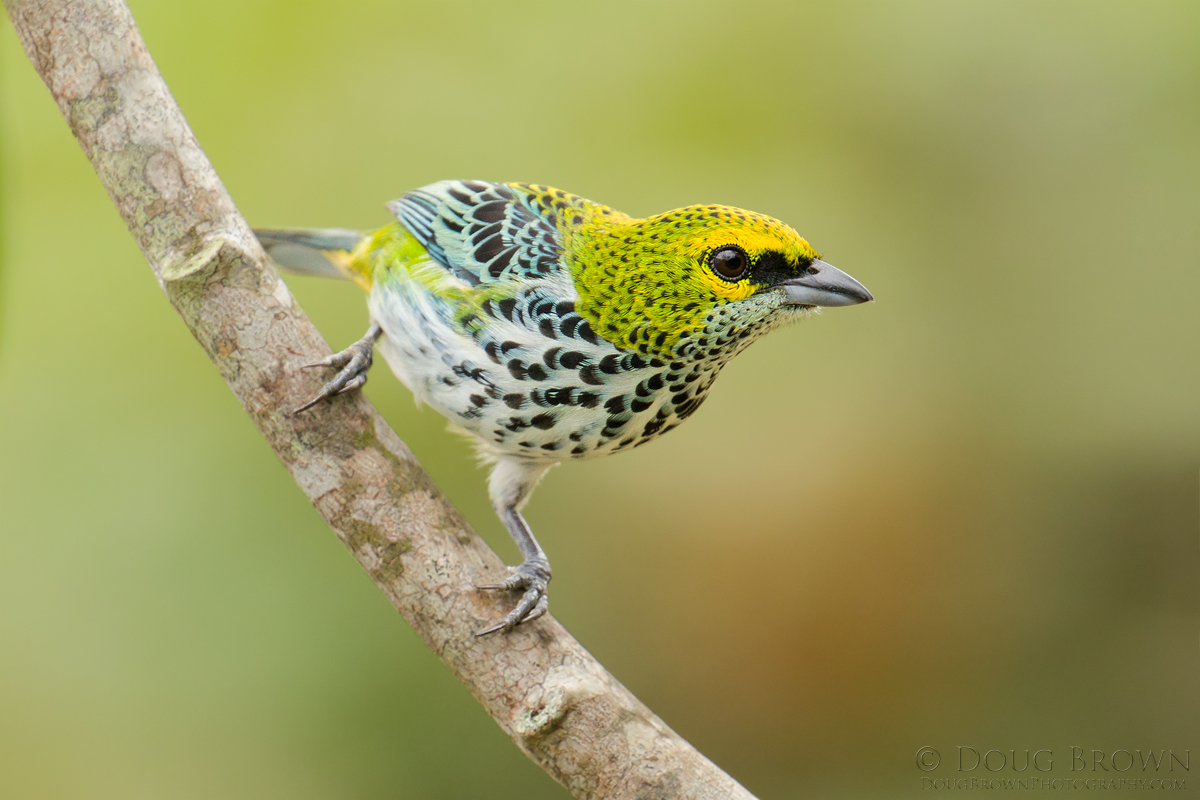 what you will learn
Manual exposure vs. aperture priority – pros and cons
Which metering mode to use
How to balance flash and ambient light
Using flash as main light vs. flash as fill
How to avoid that "overflashed" look
TTL vs. manual flash and how and when to use them
Off-camera flash as main and fill
The art and technique of multiple-flash setups for birds
Composition for bird photography
Maximizing sharpness and image quality at the moment of capture
AF techniques for bird portraits and birds in flight
Shooting outside the box/getting creative with exposure, DOF, light, and composition
Handholding big lenses vs. shooting from a tripod
Optimizing your bird images in the computer by keeping it simple and making no nonsense adjustments in Lightroom and Photoshop so that your final product looks its best
Doug Brown
When not in the operating room (he's a cardiac anesthesiologist by day), Doug Brown is a BBC prizewinning photographer best known for images of birds in flight. Doug is a moderator at BirdPhotographers.net in the Avian: Image Critique forum. You can see his photos in the popular smartphone app iBird and also on the WhatBird.com website. His work has been published in New Mexico Magazine, Western Birds Magazine, and Aloft. His images are also used extensively in A Field Guide to the Plants and Animals of the Middle Rio Grande Bosque and Raptors of New Mexico. Doug enjoys leading bird photography workshops in the United States and Costa Rica, his favorite international destination for bird photography.
Greg Basco
Greg Basco is a resident Costa Rican professional photographer and environmentalist who enjoys a working relationship with Canon. He is a BBC/Veolia Wildlife Photographer of the Year and Nature's Best Windland Smith Rice prizewinner, and his photos have been published by National Geographic, Outdoor Photographer, Newsweek, and other magazines and have been used in many books, public exhibits, calendars, and other projects. Greg's latest work in progress is a coffee table book of artistic photos from the rainforest.
In addition to his own photography, Greg truly enjoys working with tour clients to help them improve their photography and capture great photos of their own in the challenging habitats of Costa Rica. Indeed, he liked it so much that a few years ago he founded Foto Verde Tours, Costa Rica's first and only travel company specializing in photographic tourism.